"Padharo Mhare Des", they said. "ABSO-FREAKING-LUTELY" is what we said!
Prep for the trip
The prep for the trip began with Momo benign dropped at the boarding and packing amidst my super busy schedule at work! This time I bet my own record by packing for a 11 days trip from scratch in less than 10 hours. Even at that point, I was certain that the trip was not happening. 11 days away from work and home is not something I could even imagine but the moment when I accepted it to be happening was only when I sat into the cab to the airport at 2am.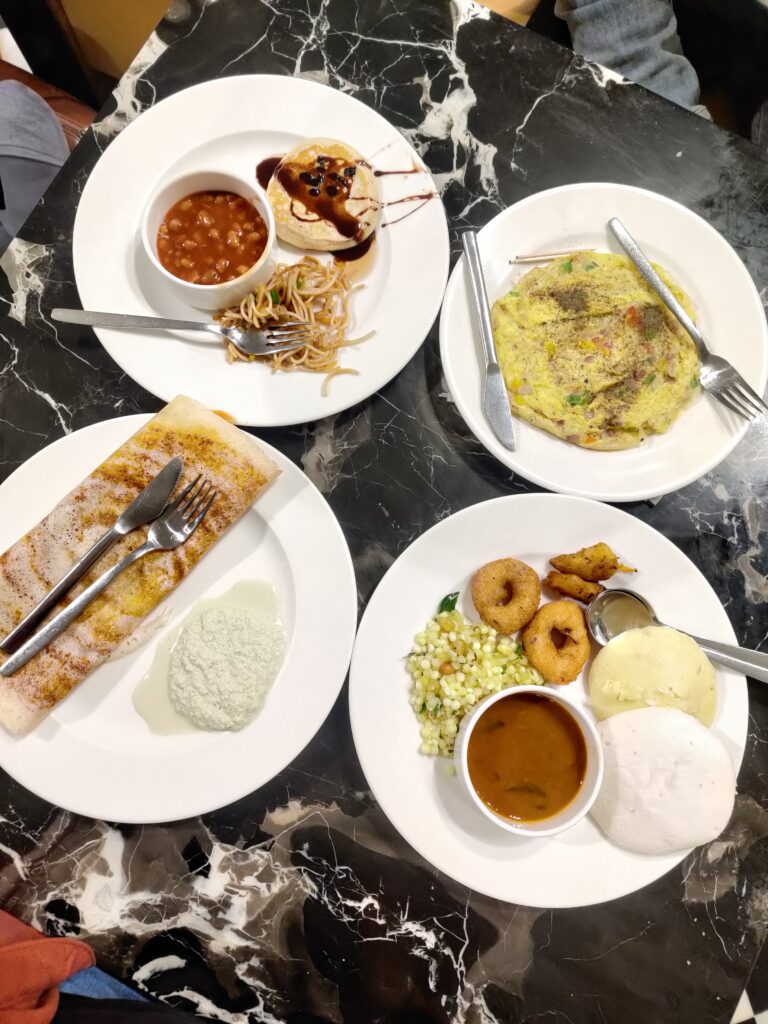 Day 1 of the Trip – 3rd February 2023
We boarded the flight at around 7:30 and landed in Jaipur at around 10:30am. The plan was that the four besties (two of whom are married to each other) from my post graduation were going to meet in Jaipur and kick start the travel.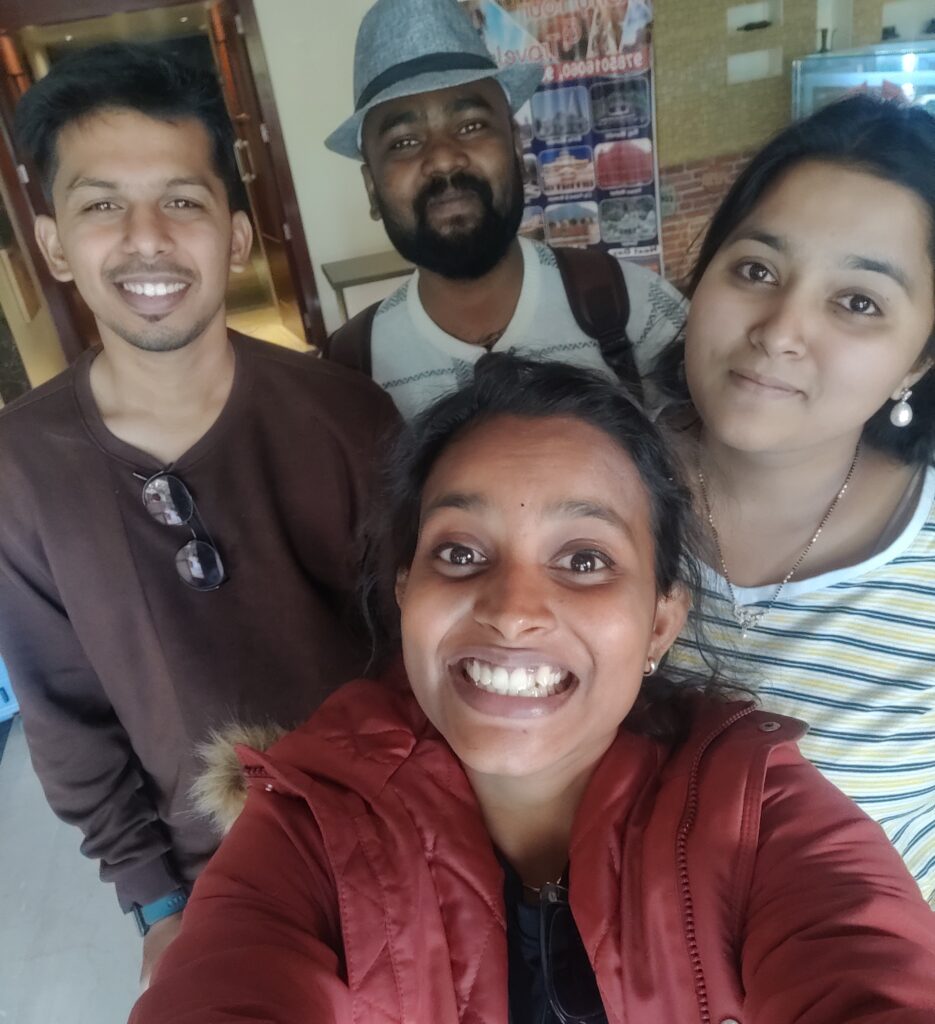 We had used Jaipur Travels to book everything for the 7 day trip including the car, hotels and any other expenses. The planners are very supportive and make changes as many time as you ask for it and are patient enough with all the queries as well. These are economical and comes with great offers on stay since they already have tie ups with hotels. We were assisted by Aravind Singh ji and Hari Om Singh ji who helped us throughout and gave us some treasures to visit too that otherwise wouldn't have made it to our trip.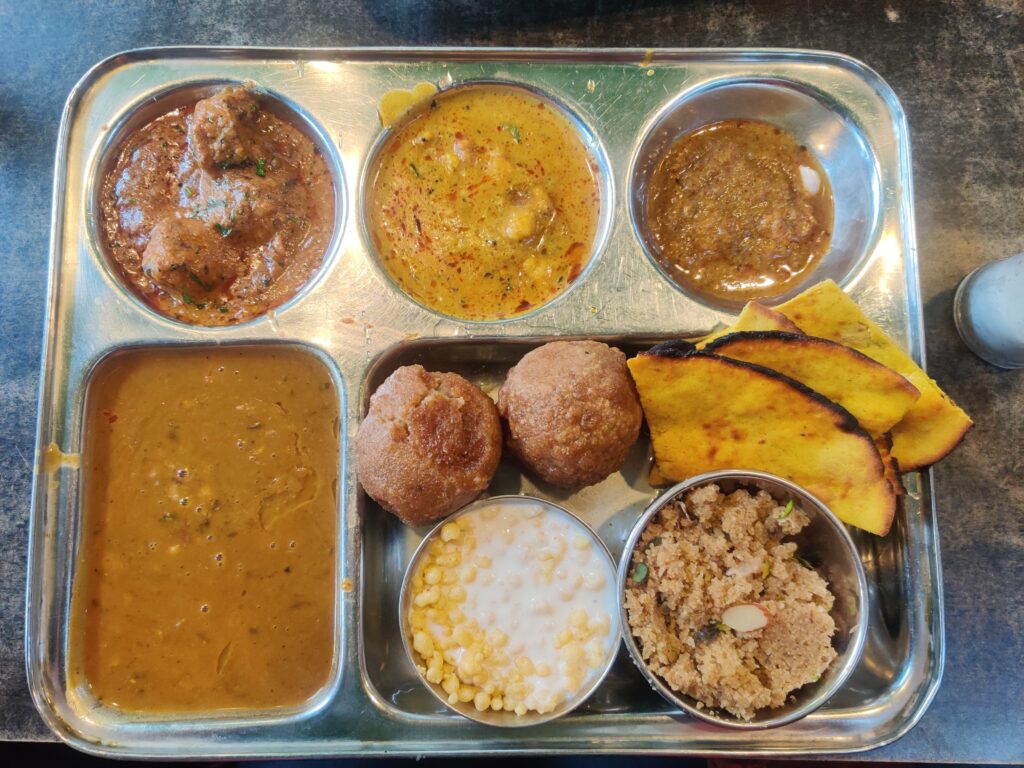 Albert Museum
I was through the trip working in small packets and soon after the sumptuous breakfast, I took a quick call on the way to the hotel. We freshened up real quick and left to Albert Museum all dressed in white.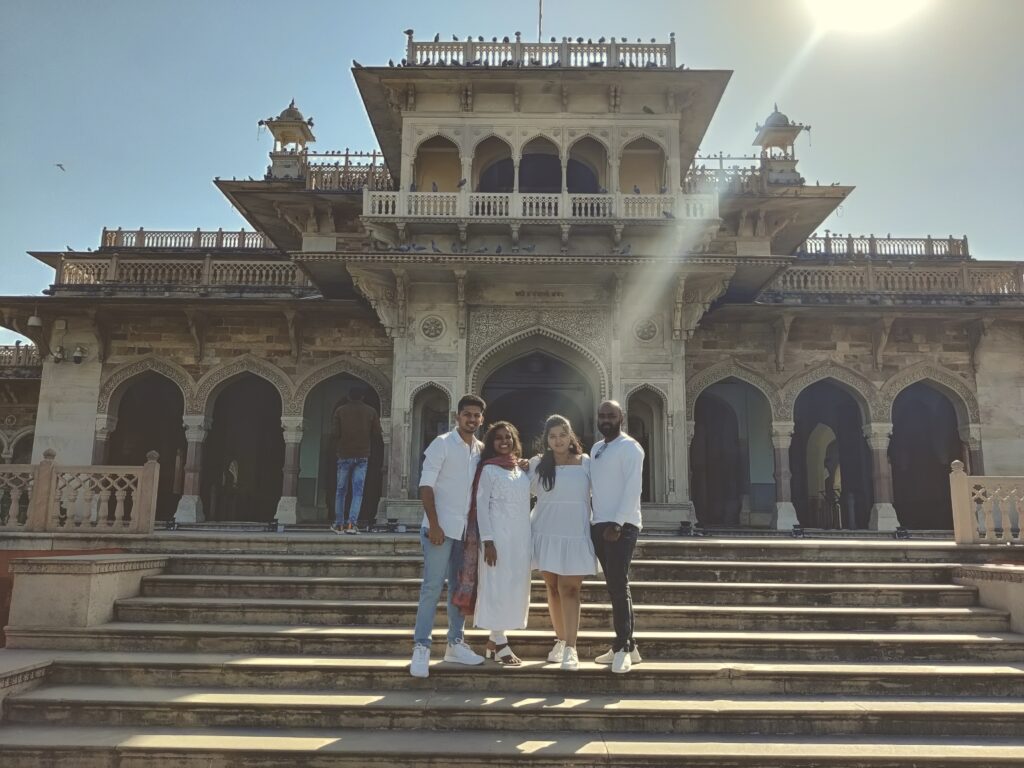 Albert Museum is built in the Indo-Saracenic architecture style and houses a large collection of artefacts brought from the different regions of the world ranging from metal objects, wood crafts, carpets, stone and metal sculptures, arms and weapons, natural stones and ivory goods. It is divided over a 16 art galleries and each of it is a beauty of its own.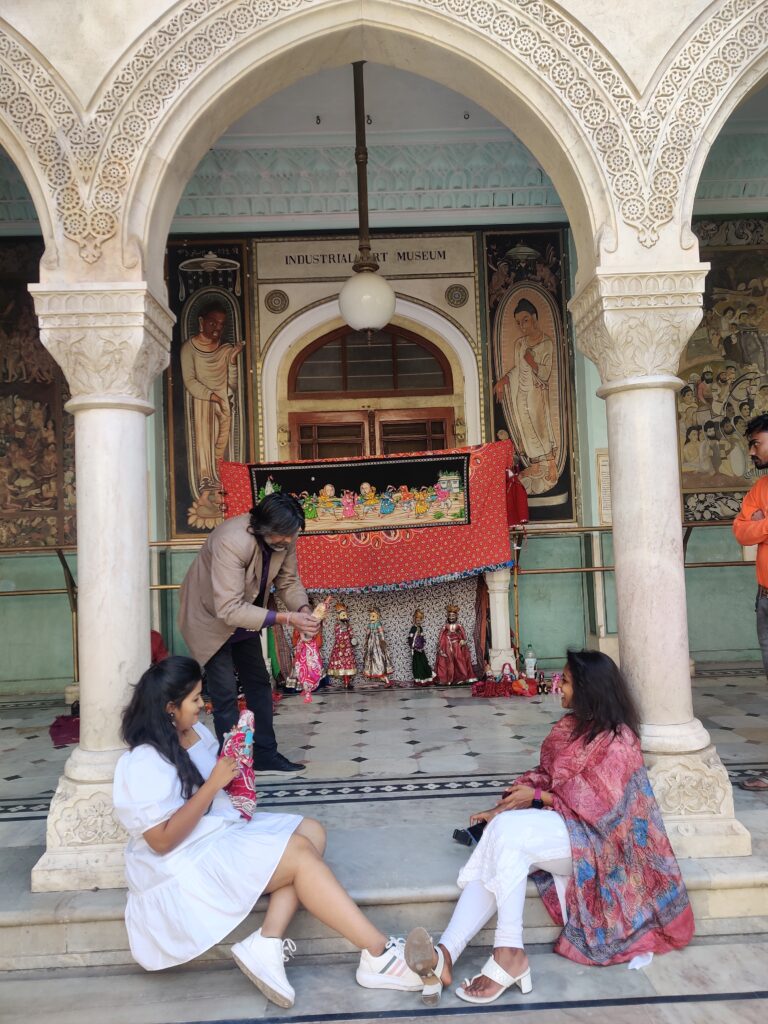 Jantar Mantar
Jantar Mantar is an astronomical observatory built by the ruler Sawai Jai Singh II in 1729 and is one of the world's most accurate pre-modern observatories. It has a set of 20 main fixed instruments designed for the observation of astronomical positions with the naked eye, which embody several architectural and instrumental innovations. Jaipur's Jantar Mantars is the biggest out of the five Jantar Mantars in India – the others are in Delhi, Ujjain, Mathura, and Varanasi. We had a great guide that we hired from the ticket counter who gave us a detailed tour of the instruments. Each one of them was an absolute wonder and no words are ever going to be enough to describe the "wow" we felt there.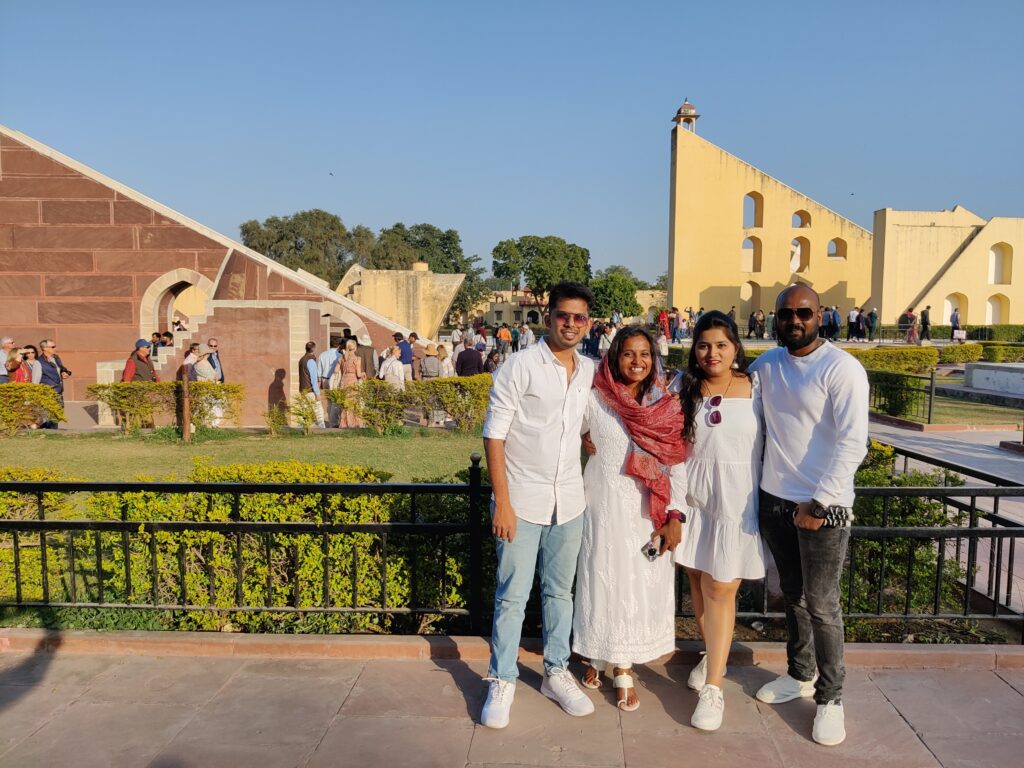 City Palace
The entrance to the City Palace is right opposite to Jantar Mantar. The Jaipur city palace is a blend of Mughal, European and Rajputana architecture together and as a result, this palace stands out as a symbol depicting the richness and royalty. Inside the palace is Chandra Mahal, Mubarak Mahal, Pritam Niwas Chowk, Diwan-I-Aam, Diwan-I-Khas, Baggi Khana, Maharani Palace and GovindDev Ji Temple.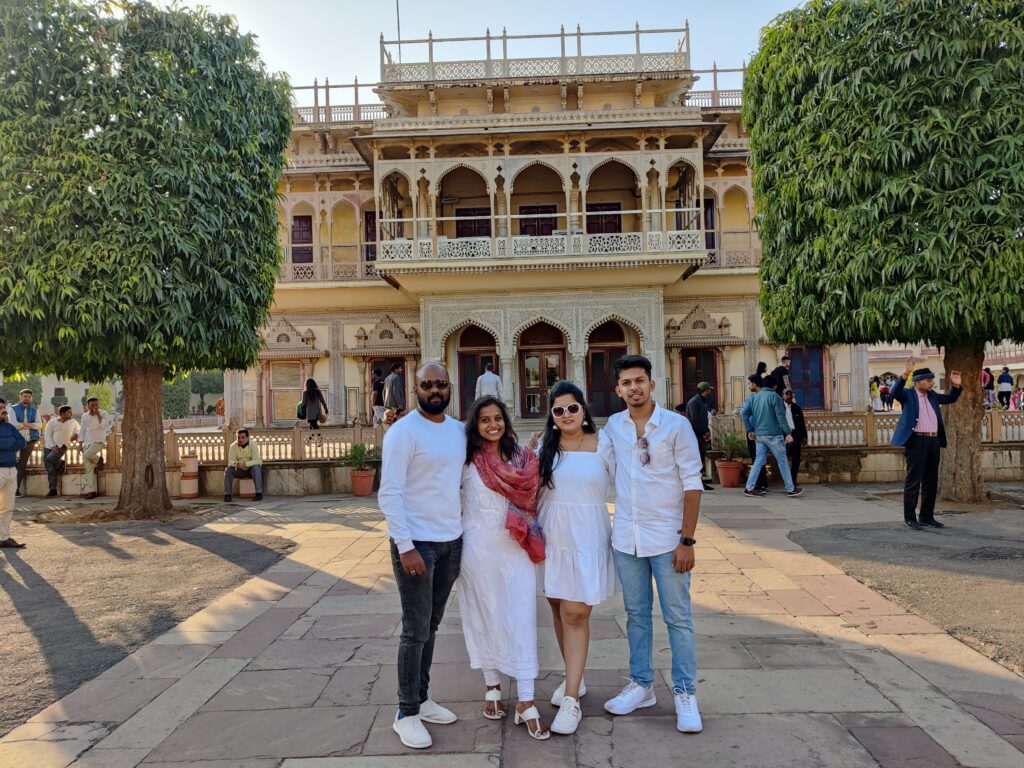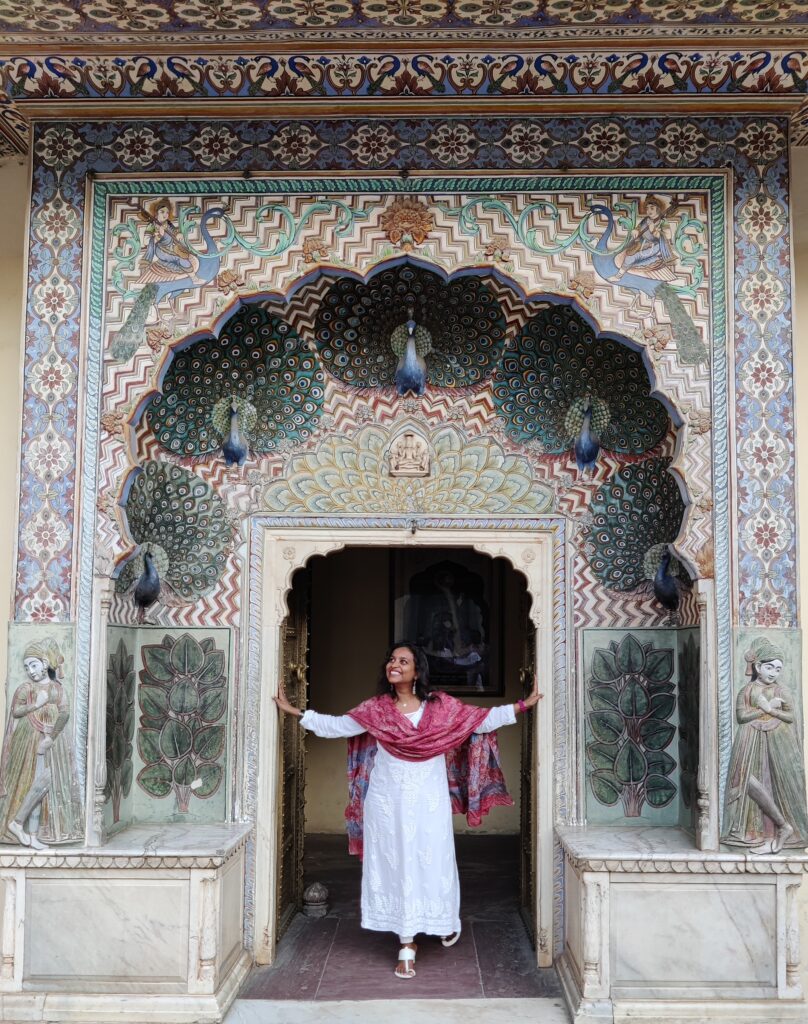 One thing that we realised after visiting all of these places is that each of these had an entry ticket and that a purchase of a Composite Admission Ticket made sense instead of buying tickets at each of the tourist attractions. This ticket covers entry to Amber Fort, Albert Hall Museum, Jantar Mantar, Hawa Mahal, Isarlat and Narhargarh Fort at INR 400 per person and is valid for two days from the time of purchase.
We quickly freshened up and headed to the most awaited part of Day 1 and of the trip itself! The Raj Mandir.
Raj Mandir
Just while the flight was taking off, we happened to see a reel on Instagram about Raj Mandir and immediately we knew this had to be on top of our to-do-list. The moment we stepped into this place, we time travelled back to 1970s and its vibes are very evident. The amazing architecture of the building consisted of an artistic vibe that gave a sense of mystery and illusion at the first sight itself. Raj Mandir Cinema was created with the intention of crossing the boundary of traditional cinema and providing a complete experience along with the movies. We got the tickets to watch the movie "Pathaan" for the second show!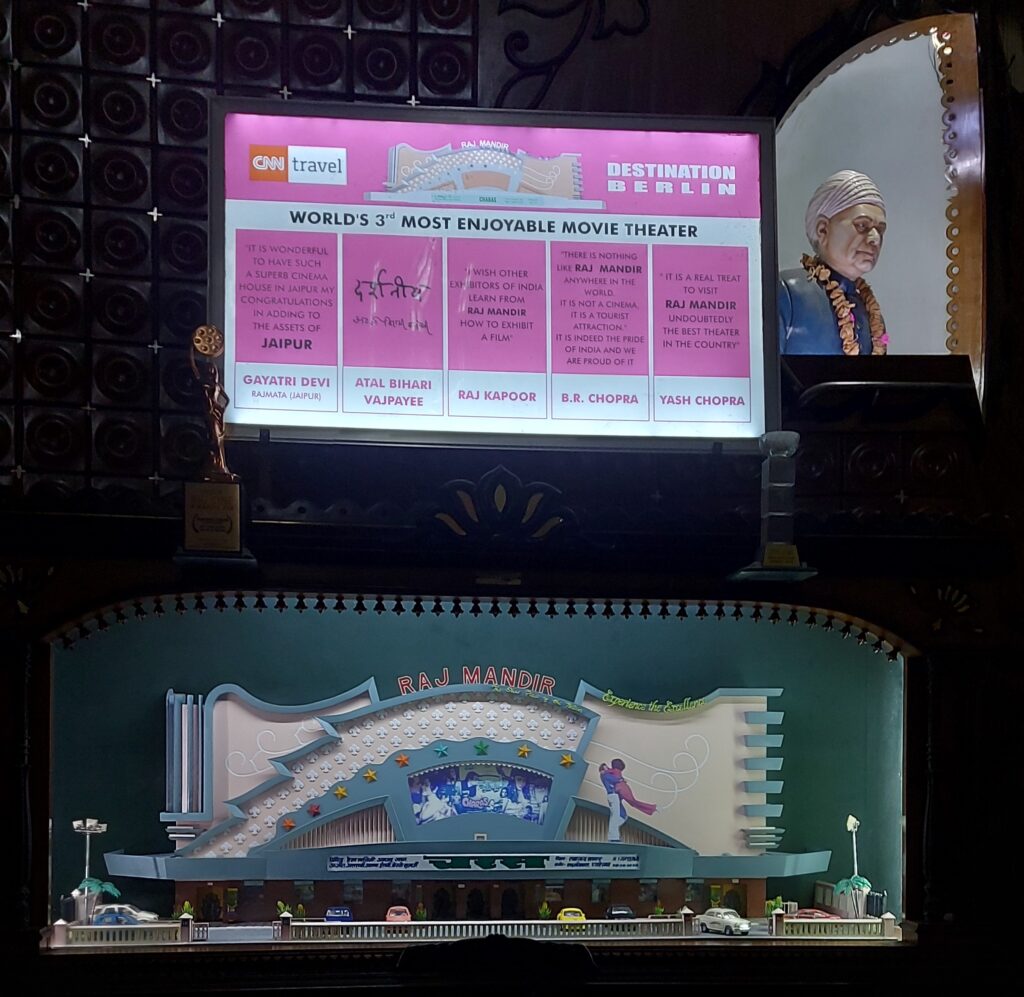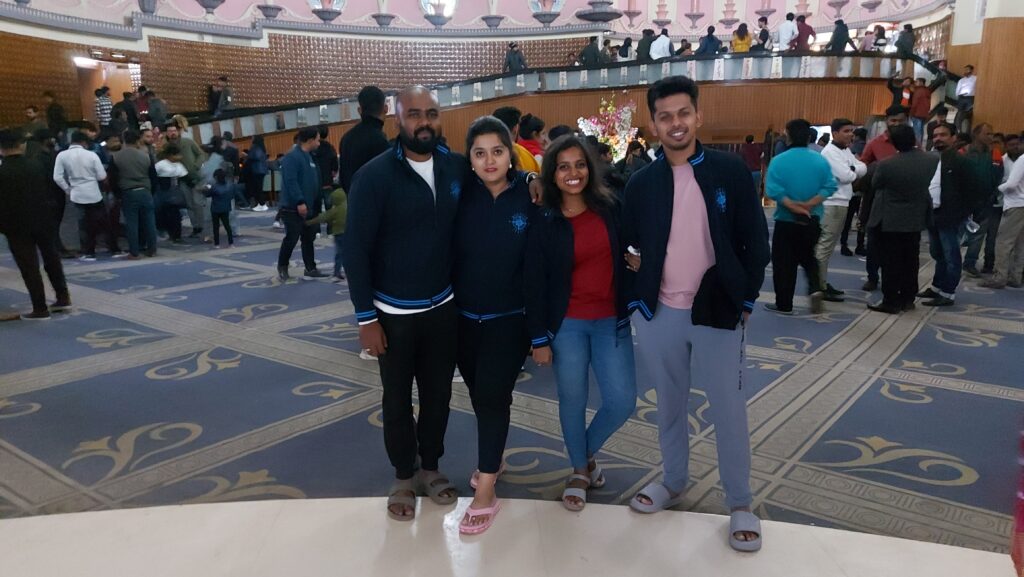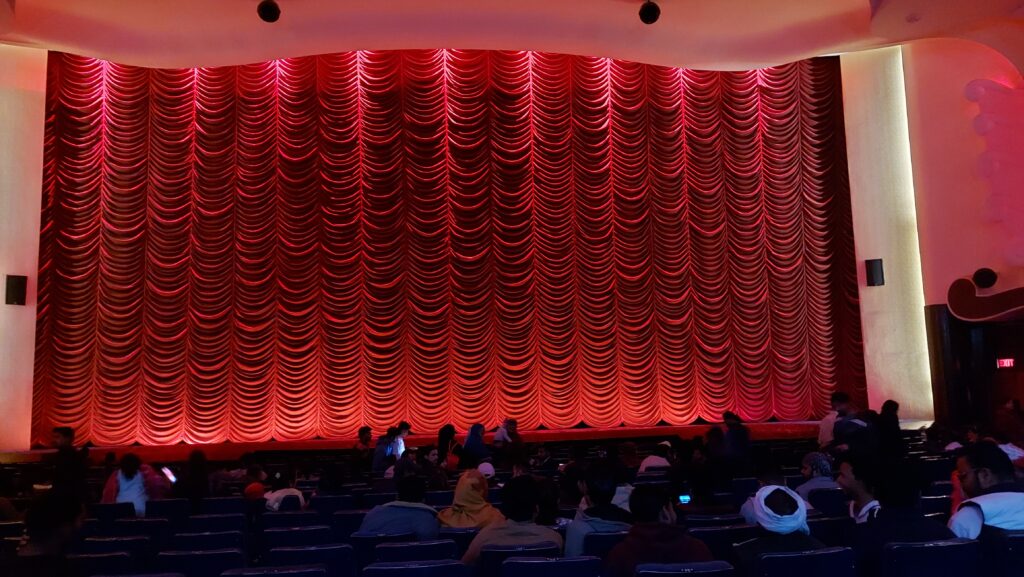 There were people dancing near the screen and on the chairs, many folks hooting through the movie, party poppers every time SRK came on screen and towards the end of the movie the police had to come in to calm folks down.
Day 2 of the Trip – 4th February 2023
After a quick breakfast, we left to
To be continued…